Cupcakes, Beards, and Beard Cupcakes!
How awesome is this? Baking for the Taking is making COMMEMORATIVE CUPCAKES in honor of The Beard! And even better, for every dozen you buy, they'll donate $10 to Off the Street Club! Look at these beautiful, tasty treats: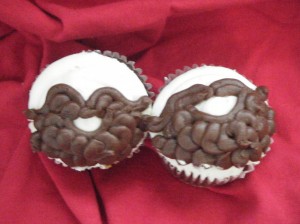 If you like cupcakes, beards, kids, or any combination of the three, order a box today from Baking for the Taking and tell 'em The Beard sent you! Schedule a pickup right from the bakery at 5740 N. Milwaukee here in Chicago or have them DELIVERED TO YOUR DOOR anywhere in Chicago for just $5! It's the yummiest way possible to help the kids of Chicago!
UPDATE: Marisa says you can even customize your cakes! Here's the full menu; I can personally vouch for the red velvet! Any questions? Call Baking for the Taking direct: (773) 951-5025.